Wayfair's Shares Are Soaring Again as Coronavirus Relief Bill Nears Approval
What happened
Shares of Wayfair (NYSE: W) were surging again on Thursday, after the Senate's approval of a $2 trillion economic rescue package gave investors hope that couch-bound Americans might soon start spending again.
As of 12:00 p.m. EDT, Wayfair's shares were up about 17.5% from Wednesday's closing price.
So what
Wayfair's shares have been on a tear, more than doubling since last week as details of the economic rescue package became clear and the bill moved closer to approval.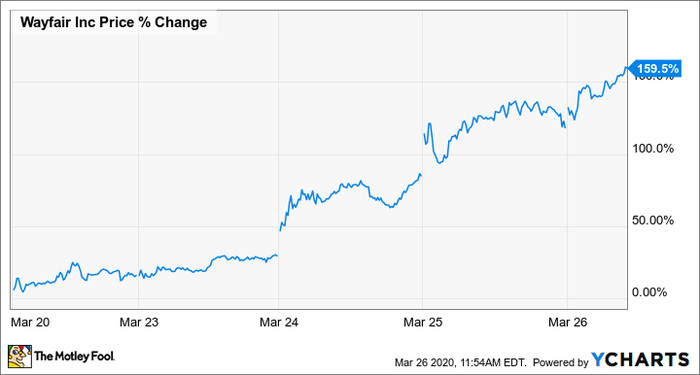 Unlike most of its brick-and-mortar rivals, Wayfair makes nearly all its sales of furniture and home goods online. (The company has just two physical stores.) Its shares were highfliers for a while, but layoffs in February and a disappointing earnings report had them sinking even before the scale of the coronavirus pandemic's disruptions in the U.S. became clear to investors.
Now what
For the moment, the mood has swung to optimism that Wayfair can get back to its fast-growing ways before too long. But will that optimism last?
I think it's fair to say that things look better now than they did a week ago. But there's still a lot of uncertainty ahead: While Wayfair's shares were probably a bargain at $25, it's not clear that they're still a great buy at $60 or more.
10 stocks we like better than Wayfair
When investing geniuses David and Tom Gardner have a stock tip, it can pay to listen. After all, the newsletter they have run for over a decade, Motley Fool Stock Advisor, has tripled the market.*
David and Tom just revealed what they believe are the ten best stocks for investors to buy right now... and Wayfair wasn't one of them! That's right -- they think these 10 stocks are even better buys.
*Stock Advisor returns as of March 18, 2020
John Rosevear has no position in any of the stocks mentioned. The Motley Fool owns shares of and recommends Wayfair. The Motley Fool has a disclosure policy.
Source