These 3 Materials Companies Are Primed to Thrive in the EV Boom
It's not just Tesla that's leading the charge toward widespread electric vehicle (EV) adoption. Legacy automakers are expanding their EV lineups in a push toward carbon neutrality.
Automakers tend to garner the headlines from the EV boom, but there's a lot more to it than just that. Electric cars would be nothing without reliable charging networks and component manufacturers.
Digging deeper, it all starts with materials stocks that provide the building blocks for economic growth.
With that, we asked some of our contributors which materials companies they thought were well positioned for the growing EV market. They chose MP Materials (NYSE: MP), Taiwan Semiconductor Manufacturing (NYSE: TSM), and Freeport-McMoRan (NYSE: FCX). Here's what makes all three stocks great buys right now.
Look beyond the lithium
Scott Levine (MP Materials): For investors who are eager to park an EV-related materials stock in their portfolios, there's no denying that lithium mining companies -- probably the first idea that pops into their minds -- are worthy considerations. Rare earth elements, however, also play a critical role in the production of EVs, making the mining companies of these minerals an equally valid consideration. With the EV market set to skyrocket in the coming years, rare earth minerals will undoubtedly be in large demand. By some estimates, for example, the rare earth elements market will grow from $2.7 billion in 2020 to $3.8 billion in 2026. Those interested in going down this road of investment, though, face a problem: the scant options available to them. MP Materials has emerged as a compelling possibility.
Branding itself as the largest producer of rare earth materials in the Western Hemisphere, MP Materials claims to be the provider of about 15% of the global supply. Currently, the company mines rare earth elements at Mountain Pass, which is located in California, then produces a rare earth concentrate -- the sale of which solely accounts for the company's revenue. But that should change in 2022 if all goes according to plan.
Whereas the concentrate that MP Materials produces is ultimately sold to an intermediary, Shenghe Resources, which then sells it to end-users in China, MP Materials is working to diversify beyond this model. The company's Stage II optimization project, which management expects to complete next year, will allow the company to separate the rare earth elements and sell them directly to end-users.
When completed, the Stage II project should enable the company to produce about 20,000 metric tons of separated rare earth oxides annually, consisting of approximately 6,075 metric tons of Neodymium-Praseodymium (an important material in the production of EVs) per year. When completed, Stage II should help the company to achieve $250 million in adjusted EBITDA in 2023, according to management. For context, MP Materials reported adjusted EBITDA of $42.6 million in 2020.
Locating assets that allow for the mining of rare earth elements is far from an easy task, suggesting that MP Materials has a significant competitive advantage -- one that will benefit its investors as the EV industry races ahead.
A diversified chip stock that's growing its automotive exposure
Daniel Foelber (Taiwan Semiconductor Manufacturing): As the largest semiconductor producer in the world, Taiwan Semi has a natural role to play in the EV boom. Seventy-five percent of its first-quarter revenue came from smartphones and high-performance computing. Its automotive segment remains a small part of its business, but it's growing fast. In fact, automotive sales increased 32% in the first quarter and now account for 4% of revenue. This is good news, considering automotive has been one of the company's worst segments over the last three years.
In its first-quarter 2021 conference call, Taiwan Semi's management directly addressed the chip shortage in the auto market -- mentioning that the automotive supply chain as a whole was severely impacted by the COVID-19 pandemic and only began recovering in the fourth quarter. "The automotive supply chain is long and complex, which is on inventory management practices," said CEO C.C. Wei. "From chip production to car production, it takes at least six months with several tiers of suppliers in between."
After reallocating some of its wafer capacity production lines to automotive, Taiwan Semi now expects it will be able to greatly reduce the automotive component shortage by the second quarter. With a $550 billion market cap, you may think that Taiwan Semi can't grow as fast as smaller companies. But it generated $17.4 billion in 2020 net income, a record high and a 51% increase over 2019 net income. The company doesn't have as direct exposure to the EV boom as other materials stocks. But its diversified business model, strong earnings growth, and attractive valuation make it a safer way to invest in the industry than smaller, riskier stocks.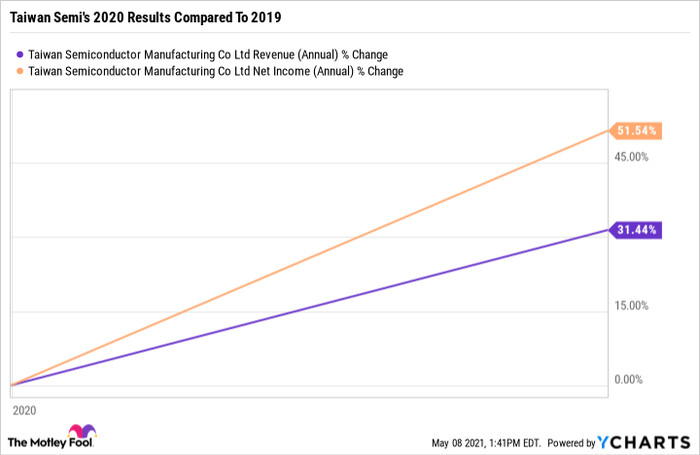 TSM Revenue (Annual) data by YCharts
Freeport-McMoRan
Lee Samaha (Freeport-McMoRan): If you believe in the EV revolution, you also believe in the growth in demand for copper. If you believe in demand growth for the shiny metal, then there's a good chance you believe the price is heading higher. That would be great news for this copper miner.
The detail behind the argument is that electric vehicles tend to require three to four times the amount of copper used in an internal combustion engine. According to research commissioned by the International Copper Association, more than 250,000 tonnes of copper a year will be needed to supply on-road vehicles, compared to a figure of fewer than 90,000 tonnes in 2021. While these figures may seem small compared to the current global annual copper usage of 28 million tonnes, it's worth noting that commodity prices often move violently on incremental changes in the demand and supply outlook.
As such, Freeport-McMoRan's management sees a favorable demand environment -- driven by global economic growth, EV demand, electrification, and the use of copper in transmission and electricity in renewable energy -- extending over the long term. Meanwhile, supply is expected to be relatively constrained due to increasingly stringent regulatory requirements and the difficulty obtaining permits. It all adds up to a favorable outlook for the copper miner.
10 stocks we like better than MP Materials Corp.
When investing geniuses David and Tom Gardner have a stock tip, it can pay to listen. After all, the newsletter they have run for over a decade, Motley Fool Stock Advisor, has tripled the market.*
David and Tom just revealed what they believe are the ten best stocks for investors to buy right now... and MP Materials Corp. wasn't one of them! That's right -- they think these 10 stocks are even better buys.
*Stock Advisor returns as of February 24, 2021
Daniel Foelber owns shares of Taiwan Semiconductor Manufacturing. Lee Samaha has no position in any of the stocks mentioned. Scott Levine has no position in any of the stocks mentioned. The Motley Fool owns shares of and recommends Taiwan Semiconductor Manufacturing and Tesla. The Motley Fool has a disclosure policy.
Source