Why PubMatic Stock Gained 25% in February
What happened
Shares of PubMatic (NASDAQ: PUBM), the supply-side ad tech platform (SSP), were climbing higher last month as the company benefited from a strong report from fellow SSP Magnite (NASDAQ: MGNI), and it announced positive performance data.
In a volatile trading month, the stock finished up 25%, according to data from S&P Global Market Intelligence. As you can see from the chart below, PubMatic shares fluctuated significantly over the course of the month.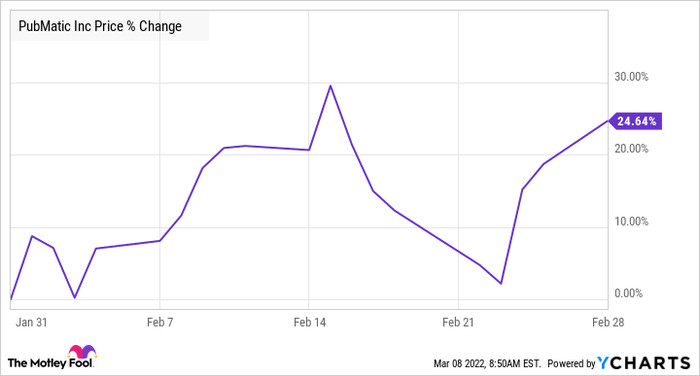 PUBM data by YCharts.
So what
Like other high-growth tech stocks, PubMatic shares have been highly volatile since the company went public in December 2020. Market sentiment has ranged widely since then with investors selling tech stocks in recent months over fears of rising interest rates.
In February, PubMatic shares crept higher in the first week of the month, though there was little news out on the stock. On Feb. 10, the company announced a report with LiveRamp saying it helped improve publishers' effective price per thousand impressions by 101%, the latest data point to show the power of its technology.
The company followed that on Feb. 15 with a similar announcement showing that its technology helped increase reach by 65% over cookie-based campaigns.
After the stock pulled back over the following week, shares jumped again after Magnite, another publisher-focused ad tech platform, reported that its revenue doubled, with the help of acquisitions, easily outpacing the analyst consensus.
Now what
PubMatic's February gains didn't hold for long. The stock plunged 17% on March 1 after it reported fourth-quarter earnings and offered first-quarter revenue guidance below expectations.
For the fourth quarter, the company posted 34% revenue growth to $75.6 million, matching estimates, and adjusted earnings per share increased from $0.36 to $0.48, well ahead of expectations at $0.27. Looking ahead, PubMatic expects revenue of $53 million to $55 million, or 25% growth at the midpoint, which was short of estimates at $56.7 million. The stock continued to slide after the report on the broad-market sell-off from the war in Ukraine, and sank to an all-time low.
Although PubMatic's revenue growth seems to be slowing after a pandemic-fueled boom, the company generates strong profit margins and is a technology leader in an underserved segment of the advertising industry.
The stock now trades at price-to-earnings ratio below 20, making it look like a bargain considering its growth prospects. Investors might want to take advantage of the sell-off.
10 stocks we like better than PubMatic, Inc.
When our award-winning analyst team has a stock tip, it can pay to listen. After all, the newsletter they have run for over a decade, Motley Fool Stock Advisor, has tripled the market.*
They just revealed what they believe are the ten best stocks for investors to buy right now... and PubMatic, Inc. wasn't one of them! That's right -- they think these 10 stocks are even better buys.
*Stock Advisor returns as of March 3, 2022
Jeremy Bowman owns Magnite, Inc. The Motley Fool owns and recommends Magnite, Inc and PubMatic, Inc. The Motley Fool has a disclosure policy.
Source