Why Shares of Deutsche Bank Are Up Today
What happened
Shares of Deutsche Bank AG (NYSE: DB) traded up more than 13% on Thursday after U.S. money management firm Capital Group disclosed a 3.1% stake in the large German lender. Deutsche Bank has spent the last few years trying to rebound from a number of scandals and Europe's weak economy, and the investment is a major endorsement of the work the bank has done.
So what
Capital Group, a Los Angeles-based money manager with more than $2 trillion dollars under management, unveiled a stake that would make it Deutsche Bank's third largest shareholder behind the Qatari royal family and BlackRock.
The investment comes as Deutsche Bank CEO Christian Sewing attempts to streamline the bank after years of negative headlines. Deutsche Bank was forced to pay nearly $10 billion in fines and penalties between 2015 and 2018 for its involvement in a LIBOR rigging scheme, the U.S. mortgage meltdown, and other irregularities. The bank was also charged with violating U.S. sanctions against Iran, and U.S. and U.K. officials traced $10 billion in Russian money laundering to Deutsche Bank.
Shares of Deutsche Bank, which have drifted steadily downward over the past 10 years, have gained more than 30% year to date as investors reacted positively to a presentation Sewing gave in December highlighting the progress he has made rebuilding the banking giant.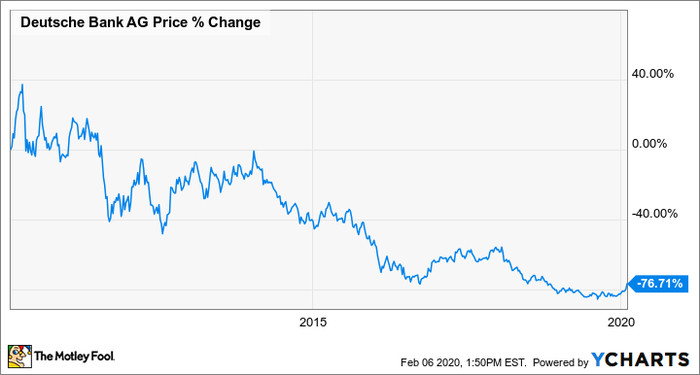 Now what
Long-term investors in Deutsche Bank have dramatically underperformed investors in other bank stocks, with the German lender's shares trailing a Dow Jones index of bank stocks by nearly 200 percentage points over the last 10 years. The hope is that the worst is now behind Deutsche Bank, and Capital Group's buy-in adds a large and credible endorsement to that view.
For Deutsche Bank to really thrive, the European economy is going to have to fully recover, and that could be a challenge as the Brexit separation plays out and growth remains stubbornly slow across the Mediterranean. But even if the turnaround can't be completed overnight, investors are gaining confidence the worst is now finally over for Deutsche Bank.
10 stocks we like better than Deutsche Bank
When investing geniuses David and Tom Gardner have a stock tip, it can pay to listen. After all, the newsletter they have run for over a decade, Motley Fool Stock Advisor, has tripled the market.*
David and Tom just revealed what they believe are the ten best stocks for investors to buy right now... and Deutsche Bank wasn't one of them! That's right -- they think these 10 stocks are even better buys.
*Stock Advisor returns as of December 1, 2019
Lou Whiteman has no position in any of the stocks mentioned. The Motley Fool has no position in any of the stocks mentioned. The Motley Fool has a disclosure policy.
Source