3 Under-the-Radar Infrastructure Stocks to Buy in 2022 and Beyond
Do you want exposure to infrastructure spending while avoiding some of the more overpriced stocks within the sector? If so, then electrical products company nVent Electric (NYSE: NVT), engineering design software company Autodesk (NASDAQ: ADSK), and farming and construction equipment company John Deere (NYSE: DE) are worth a look.
These three stocks all have significant upside potential as we see the advent of a pickup in infrastructure spending that is expected to continue for several years.
1. nVent Electric
The electrical products company nVent is a "pick-and-shovel" way to play the trend toward electrification in the economy, including spending in the infrastructure sector. nVent generates around half of its revenue from electrical enclosures (connection and protection of electronics, communication, power, and power equipment). An additional 28% comes from electrical and fastening systems (electrical and mechanical systems), and around a quarter comes from thermal management (heat tracing, wiring, control, and monitoring).
It's not a particularly exciting collection of products, but corporations and governments spend on electrification solutions; they will need nVent's connection and protection systems to meet regulatory requirements and avoid costly failures.
As such, management sees a growth opportunity in infrastructure spending (around 19% of current revenue), mainly from spending on 5G networks, data centers, and investment in power networks. Meanwhile, megatrends like electric vehicles, renewable energy, smart buildings, and infrastructure will provide underlying growth for years to come.
Trading on just 17 times Wall Street analyst estimates for free cash flow in 2022, nVent looks like an excellent value option for a company with good growth prospects in the coming years.
2. Autodesk
Autodesk stock had a disappointing 2021 with a near 8% decline through the year. The reason comes down to a combination of factors. First, the stock started the year on a very high valuation and had a lot of optimism built into it. In such situations, all it takes is a slight disappointment to earnings expectations in the year, and the stock will come under pressure.
Unfortunately, that's precisely what happened when management lowered its fiscal 2022 free cash flow (FCF) guidance. Moreover, in its third-quarter earnings report, management walked back its long-held 2023 guidance for $2.4 billion in FCF. The guidance has been a debating point for bulls and bears this year. In a nutshell, management warned of a risk of $100 million to $200 million to the guidance.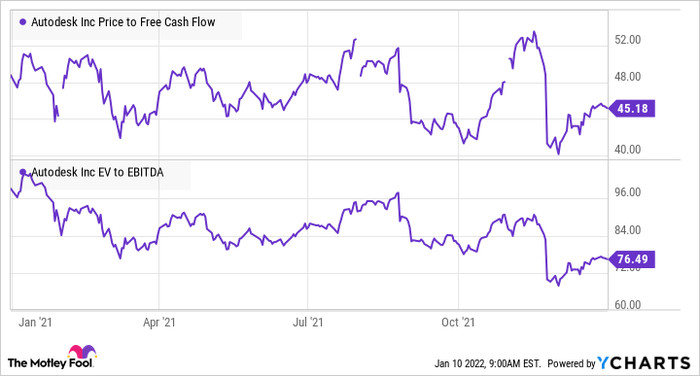 Data by YCharts
But here's the thing. Now that investor expectations have been tempered and the stock has corrected, it's time to get more excited about the engineering design software company. Autodesk's key end market is engineering and construction, which has upside potential from increased infrastructure spending.
Moreover, as CEO Andrew Anagnost noted on the last earnings call, "We don't have any infrastructure uplift built in any of our guidance or anything that we're talking about right now." He went on to say, "the emphasis on digital transformation inside the infrastructure industry is going to be an important catalyst to modernizing and expanding" infrastructure in the U.S.
Even if Autodesk misses its 2023 FCF guidance by $200 million (note that Autodesk's fiscal year ends on Jan. 30), it will still generate $2.2 billion in FCF, putting it at 26 times FCF. That's a decent value for a growth stock with mid-teens growth prospects. Throw in some extra growth potential from infrastructure spending, and Autodesk's earnings and FCF growth could start to surprise on the upside in the future.
3. John Deere
John Deere is best known for its agriculture equipment, and rightly so. However, around 29% of its sales come from the construction and forestry segment. Thanks to the $5.2 billion acquisition of road construction equipment company Wirtgen, Deere is a major player in road infrastructure. Deere already offered excavators, loaders, and construction site machinery, and Wirtgen added mixing, paving, and compaction equipment.
Deere's construction equipment gives it upside potential from increased infrastructure spending and supports the underlying strength of its agriculture equipment and precision agriculture solutions. It's a favorable mix, particularly as key crop prices like soybean, wheat, and corn remain at relatively elevated prices. Deere expects its North American large agriculture equipment sales to rise 15% in 2022, ably supported by 5%-10% growth in North American construction equipment.
It all adds up to a company on a good earnings trajectory with upside from infrastructure spending.
10 stocks we like better than Deere & Company
When our award-winning analyst team has a stock tip, it can pay to listen. After all, the newsletter they have run for over a decade, Motley Fool Stock Advisor, has tripled the market.*
They just revealed what they believe are the ten best stocks for investors to buy right now... and Deere & Company wasn't one of them! That's right -- they think these 10 stocks are even better buys.
*Stock Advisor returns as of January 10, 2022
Lee Samaha has no position in any of the stocks mentioned. The Motley Fool owns and recommends Autodesk. The Motley Fool has a disclosure policy.
Source