Don't Expect a Quick Profitability Rebound From Kimberly-Clark
Kimberly-Clark (NYSE: KMB) recently disappointed investors who were looking for signs of sharply improving operating results in the second half of 2020. The consumer staples giant did manage faster sales growth in the fiscal third quarter, but those gains weren't as robust as peers have been notching. Kimberly-Clark is also seeing a widening profitability gap with Procter & Gamble (NYSE: PG).
In a conference call with Wall Street analysts, CEO Michael Hsu and his team broke down those hits and misses while expressing a positive long-term outlook. Let's look at some highlights.
The positives
Our market-share performance in North American consumer products was strong in the third quarter. [Market] shares were up in six of eight [product] categories.
-- Hsu
Kimberly-Clark notched a few wins on the way to posting 3% higher organic sales overall. That includes an 8% growth spike in the core U.S. market and modest market share growth in areas like diapers and tissues.
Those gains were offset by weaker results in its commercial division, which is being pressured as more people work from home. Kimberly-Clark also struggled in many developing markets, and its total 3% uptick fell far behind the 9% spike that P&G reported for the same period.
Still, executives say they're happy with their latest product launches, and with the fact that more than half of their targeted industry segments are gaining market share. "I'm very encouraged with our performance," Hsu said.
Rising costs
Between-the-lines spending was 18.9% of sales. That's up 180 basis points and driven by a big step up in digital advertising. [General and administrative expenses] also increased, including capability-building investments and higher incentive compensation expenses. We expect between-the-lines spending will rise further sequentially in the fourth quarter.
-- CFO Maria Henry
Kimberly-Clark had been narrowing the profitability gap with P&G in recent quarters, but that trend reversed itself this quarter. Gross profit margin fell, and operating margin slumped, too, as the company spent more on advertising and compensation.
Overall, operating income declined 27% to $666 million. P&G, in contrast, landed a 3-percentage-point boost to its operating margin .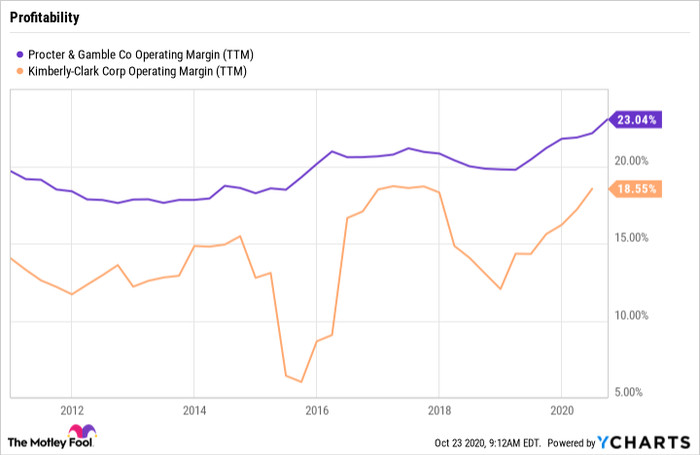 PG operating margin (TTM) data by YCharts. TTM = trailing 12 months.
Executives suggested that the weakness will continue at least into Q4 and might not rebound until there's a growth turnaround at Kimberly-Clark's professional segment.
A brighter end to the year
We now expect organic sales growth of 5% compared to our prior target of 4% to 5%. Through nine months, organic sales are up nearly 6%, and we expect a solid fourth quarter.
-- Henry
There's no denying that Kimberly-Clark is on a brighter operating path than management had predicted back in late July. Executives raised their growth outlook while boosting earnings expectations.
The bad news is that consumer staples rivals like P&G are enjoying stronger sales gains and improving profitability. Kimberly-Clark's main rival is achieving those higher margins due to popular product innovations, too, and not just cost cuts or increased prices.
That means P&G shareholders are looking at overall returns that are supported by robust market share, spiking earnings, and increasing direct cash returns. While Kimberly-Clark competes in many of the same niches, it isn't showing exactly the same strengths in its operating trends today.
10 stocks we like better than Kimberly Clark
When investing geniuses David and Tom Gardner have a stock tip, it can pay to listen. After all, the newsletter they have run for over a decade, Motley Fool Stock Advisor, has tripled the market.*
David and Tom just revealed what they believe are the ten best stocks for investors to buy right now... and Kimberly Clark wasn't one of them! That's right -- they think these 10 stocks are even better buys.
*Stock Advisor returns as of October 20, 2020
Demitri Kalogeropoulos has no position in any of the stocks mentioned. The Motley Fool has no position in any of the stocks mentioned. The Motley Fool has a disclosure policy.
Source