What's on Tap for McDonald's Earnings on Thursday?
McDonald's (NYSE: MCD) stock has risen right along with the stock market's rally over the last year. But that solid performance will be tested in its upcoming earnings announcement.
The fast-food titan is facing high expectations about the report, set for Jan. 27. While growth was likely weaker in some areas thanks to the omicron variant, the chain entered the period having fully recovered from the pandemic's impact on customer traffic and profitability. That's why most investors who follow the stock are expecting good news in this week's announcement regarding sales, cash flow, and earnings.
Let's take a closer look.
Customer traffic trends
The big growth question revolves around whether the chain took a step backwards on customer traffic. That key metric returned to solidly positive territory in the third quarter, helping comparable-store sales jump 13%. Revenue is rising at about a 10% annual rate over the last two years, too, which smooths out most of the volatility associated with store closings earlier in the pandemic. Watch for any change in that wider growth rate on Thursday. Most Wall Street pros are looking for the steady rebound to continue, with reported sales rising about 13% again in Q4.
We'll also receive updates on McDonald's biggest growth initiatives, which currently include its global push into mobile ordering and delivery. That shift, combined with the chain's dominant drive-thru channel, should help it outpace the wider fast-food industry to beat peers like Restaurant Brands International, whose Burger King brand is growing sales at about an 8% pace lately.
Getting more efficient
The fast-food sector has been rocked by inflation over the last few months, which creates a challenge for McDonald's and its rivals as they work to protect profitability. But the outlook is brighter for the industry leader, in part because it already trounces its competitors in the operating margin department.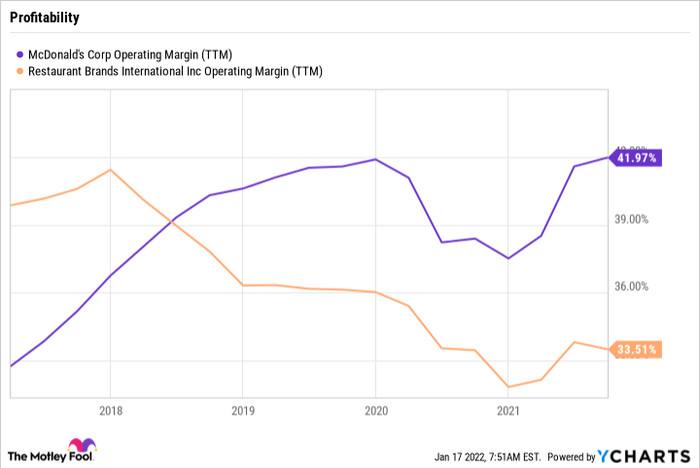 MCD Operating Margin (TTM) data by YCharts
McDonald's is hoping to widen that gap over the next few years, pushing margins up in the mid-40% range. Some of that boost will come from rising prices, but the chain will also get help from its slimmer menu and more efficient selling operation. "Our restaurants became easier to run and more profitable" during earlier phases of the pandemic, executives said last year. Look for more progress on that score this week by following operating margin and cash flow.
Looking ahead
CEO Chris Kempczinski and his team might sound a cautious initial tone about the new fiscal year that just started. Several of the company's key international markets are dealing with temporary pressures from the latest COVID-19 wave, after all. McDonald's will also need to be careful not to harm its customer traffic rebound by raising prices too quickly in 2022.
But the restaurant chain has plenty of room to boost earnings through a balance of higher prices and lower costs. Shareholders should also see most excess cash coming their way through stock buybacks and a rising dividend payment.
Given those attractive investment attributes, it's no surprise that the stock has rallied over the last year even though McDonald's faces the usual mix of challenges around market share and profitability in the highly competitive fast-food industry. The company navigated through these issues during earlier parts of the pandemic and is now padding its lead heading into 2022.
10 stocks we like better than McDonald's
When our award-winning analyst team has a stock tip, it can pay to listen. After all, the newsletter they have run for over a decade, Motley Fool Stock Advisor, has tripled the market.*
They just revealed what they believe are the ten best stocks for investors to buy right now... and McDonald's wasn't one of them! That's right -- they think these 10 stocks are even better buys.
*Stock Advisor returns as of January 10, 2022
Demitri Kalogeropoulos owns McDonald's. The Motley Fool recommends Restaurant Brands International Inc. The Motley Fool has a disclosure policy.
Source