Where to Invest $5,000 Right Now
Money-making opportunities are available in the stock market for prudent investors, and the great thing is that there aren't any barriers to investing in the stock market. Invest in growing companies, stick with them for many years, and as long as an asteroid doesn't strike the Earth, you should have a decent nest egg in a few years down the road.
Here are some ideas to get you started.
The easiest path to building wealth
Some investors might be wondering if now is the best time to invest, especially given the markets have risen sharply over the past year. I believe the best time to invest is when you have cash to spare. It doesn't matter whether the markets are soaring to new highs or falling due to the latest panic on Wall Street.
To illustrate why, check out this chart that shows the performance of $10,000 invested in the S&P 500 at the height of the dot-com bubble at the end of 1999.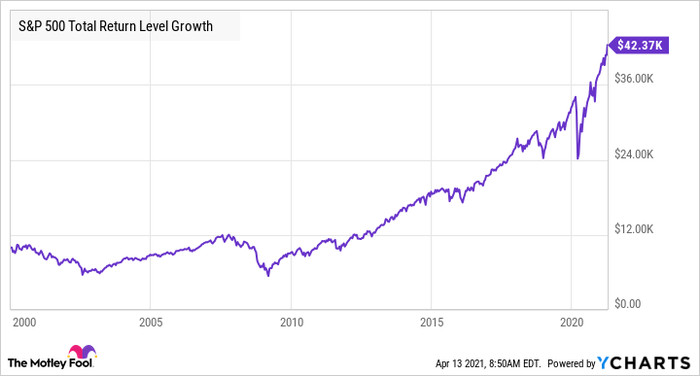 Data by YCharts.
Even if you had invested at a time when stocks were the most "overvalued" and crashed two times in the following decade, you still would have earned an annualized return of 7.1% per year on your money. At that rate, your money doubles every 10 years.
You could have an even greater return by adding $500 every month to your holding. Following this plan would have grown the value of your investment to $470,000. That's an internal rate of return of 9.6%, which is close to the average annual return of the market going back decades -- and that return was from a starting point that every expert would say was the worst time to start investing.
Simply put, you can't go wrong by investing in a low-cost index fund, such as the Vanguard S&P 500 ETF (NYSEMKT: VOO), and consistently adding money to it.
Top growth stocks to consider
If you're looking to do some catching up on your retirement goals, adding a handful of growth stocks can help. One secular trend to consider investing behind is the growing appetite for fitness and active lifestyles.
The athletic wear industry has been a sweet spot in the broader retail market for many years, fueling the growth of Nike (NYSE: NKE) specifically. But my favorite stock in this arena is lululemon athletica (NASDAQ: LULU). With only $4.4 billion in annual revenue, Lululemon is like buying a smaller version of Nike. It has vast opportunities to expand globally. Revenue from outside North America makes up only 14% of the business and is growing more than twice the rate as the rest of the company.
Another fitness stock that is experiencing phenomenal growth is Peloton Interactive (NASDAQ: PTON), which is capitalizing on the demand for convenient fitness solutions at home. It ended the most recent quarter with 1.67 million Connected Fitness subscriptions. The company's exercise machines are pricey, but management believes it can convert millions of gym-goers over the long term. Investors agree, with the shares up nearly 370% since it went public in September 2019.
One top stock that could offer upside in both the near and long term is Walt Disney (NYSE: DIS). The share price rebounded 78% over the last year, purely due to the growth of Disney's streaming business. Disney+ reached nearly 95 million subscribers in its first full year on the market, with 1.1 billion households identifying as Disney fans.
However, Disney's entertainment empire, which also includes ESPN, ABC, consumer products, and theme parks, is only operating at half strength right now. Revenue from parks, experiences, and products fell 53% in the most recent quarter. This segment is important to Disney, bringing in a whopping $26 billion in revenue in fiscal 2019. Once the parks fully recover, Disney stock could deliver more gains for investors.
The consumer shift to e-commerce is a secular trend that has already led to big gains for investors in stocks like Shopify and Etsy, but with e-commerce still accounting for less than 15% of retail spending domestically, leading e-commerce companies stand to deliver above-average growth for many years.
Investors can't go wrong with Amazon (NASDAQ: AMZN). The company built a powerful competitive advantage with fast shipping, excellent customer service, and a wide selection of goods. It now has more than 150 million Prime members and counting. Management believes the high engagement with Prime benefits in 2020, including free grocery delivery from Whole Foods and Prime Video, will have a lasting impact on the business. Amazon remains one of the best growth stocks to own, period.
Investing is a journey
Growing your money is not complicated like the experts make you think. It's as simple as sticking to a plan and ignoring short-term market volatility. That's all there is to it. Invest regularly in growing companies, or in an index fund, and you're on the way to financial freedom.
Find out why Walt Disney is one of the 10 best stocks to buy now
Motley Fool co-founders Tom and David Gardner have spent more than a decade beating the market. After all, the newsletter they have run for over a decade, Motley Fool Stock Advisor, has tripled the market.*
Tom and David just revealed their ten top stock picks for investors to buy right now. Walt Disney is on the list -- but there are nine others you may be overlooking.
Click here to get access to the full list!
*Stock Advisor returns as of February 24, 2021
John Mackey, CEO of Whole Foods Market, an Amazon subsidiary, is a member of The Motley Fool's board of directors. John Ballard owns shares of Amazon and Peloton Interactive. The Motley Fool owns shares of and recommends Amazon, Etsy, Lululemon Athletica, Nike, Peloton Interactive, Shopify, Vanguard S&P 500 ETF, and Walt Disney. The Motley Fool recommends the following options: long January 2022 $1920.0 calls on Amazon and short January 2022 $1940.0 calls on Amazon. The Motley Fool has a disclosure policy.
Source