Why Aeva Technologies Stock Is Lower Today
What happened
Shares of lidar maker Aeva Technologies (NYSE: AEVA) were trading sharply lower on Monday, after a Morgan Stanley analyst initiated coverage of the company with a not-exactly-bullish note.
As of 10:45 a.m. EDT, Aeva was down about 10.7% from Friday's closing price.
So what
In a note released early on Monday morning, Morgan Stanley analyst Joseph Moore initiated coverage of Aeva with a rating of equal weight and a price target of $11. (Aeva closed at $9.71 on Friday.)
Moore wrote that Aeva's so-called 4D lidar technology is "unique" in the automotive driver-assistance market, and that the company has "carved out material differentiation" in the increasingly crowded lidar-for-autos space.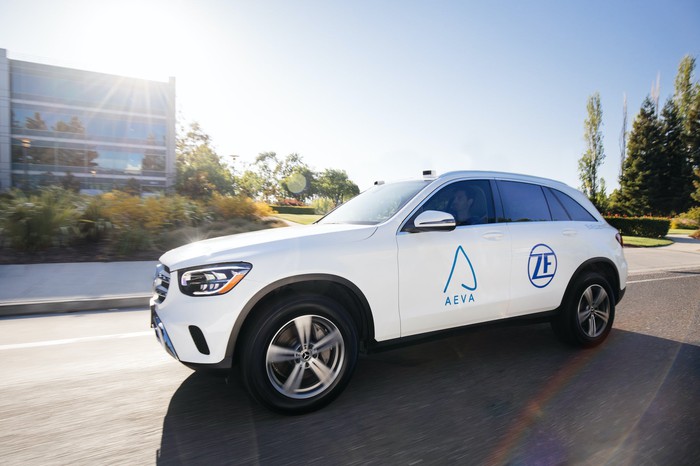 In some important ways, Aeva Technologies stands out from rivals in a crowded field. But its current valuation seems generous, an analyst wrote. Image source: Aeva Technologies.
He also cited the company's partnerships -- including those with Japanese auto-parts giant Denso and Volkswagen-backed autonomous truck start-up TuSimple Holdings (NASDAQ: TSP) -- as factors that help Aeva stand out from the pack.
So why is the stock down? It's that price target: Moore thinks it will take some time for Aeva, which only went public in March, to grow into its current valuation -- or put another way, the stock looks expensive right now.
Now what
Investors watching Aeva and others in this space can look ahead to the company's second-quarter earnings report, likely in mid-August.
10 stocks we like better than Aeva Technologies, Inc.
When our award-winning analyst team has a stock tip, it can pay to listen. After all, the newsletter they have run for over a decade, Motley Fool Stock Advisor, has tripled the market.*
They just revealed what they believe are the ten best stocks for investors to buy right now... and Aeva Technologies, Inc. wasn't one of them! That's right -- they think these 10 stocks are even better buys.
*Stock Advisor returns as of June 7, 2021
John Rosevear has no position in any of the stocks mentioned. The Motley Fool owns shares of and recommends Volkswagen AG. The Motley Fool has a disclosure policy.
Source