3 Dividend Aristocrats to Buy and Hold Forever
The Dividends Aristocrats are an exclusive club of 57 companies that have raised dividends every year for at least 25 years. Paying a dividend is challenging -- companies need to have a business model that provides stable and consistent cash flow. But raising the dividend annually takes something even more special.
Dividend Aristocrats have the ability to thrive in any kind of economic environment, take a long-term view, and have a culture of continuous improvement that strengthens the financial statements every year.
Even though just about any company on the Dividend Aristocrat list is a safe bet, here are three that are adapting in ways that will pay off for years to come: Cintas (NASDAQ: CTAS), Lowe's (NYSE: LOW), and McCormick (NYSE: MKC).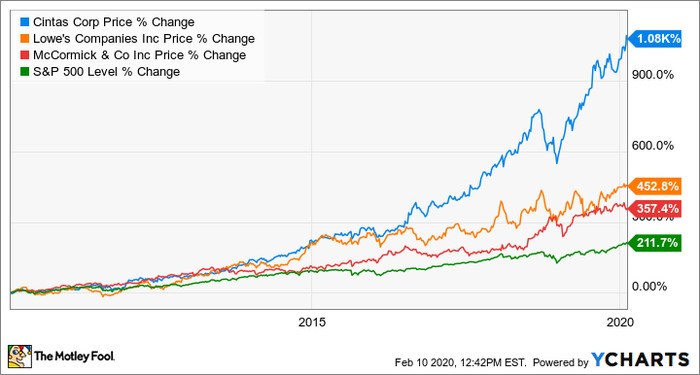 1. Cintas: Expanding from its core
Cintas started as a uniform provider in 1968 and has grown to serve over one million customers with a footprint primarily in North America. Over the years, it has expanded into complementary services focused around first aid, fire protection, and safety services which now account for around 15% of revenue ($6.9 billion in revenue last fiscal year).
In 2016, it unveiled its "Ready for the workday" branding campaign, which highlighted that the company had moved beyond its uniform rental roots. This has given its customers a new way to think about what Cintas can deliver and has helped fuel its growth.
In its full-year results ending May 31, 2019, non-uniform services segments have topped $1 billion in revenue and grew at 12% year-over-year, more than twice that of the core uniform segments at 5.5%.
Also in 2016, the company announced it was buying its largest uniform rental competitor, G&K Services, for $2.2 billion. This added another $1 billion in revenue and 100,000-plus customers. Even though it is still in the process of full integration of the two operations, it has started to see bottom-line improvements as it reduces redundancies between the two organizations.
These two examples show Cintas' ability to adapt and highlight its competitive edge. Although its dividend yield is only 0.87%, its outperformance of the market over the past 10 years has rewarded shareholders handsomely. A track record of consistent execution and a low payout ratio of 30% should keep its 37-year streak of raising its dividend intact, and shareholders happy for many years to come.
2. Lowe's: Transforming to grow
The Census Bureau estimates that over half of the 136 million homes in the U.S. were built before 1980, and over 80% are at least 20 years old. This is a great opportunity for Lowe's, which provides products and services for home remodeling and repair.
It operates 2,220 stores in the U.S. and Canada under the Lowe's and RONA brands, pulling in $71.8 billion in revenue for the last four quarters.
In July 2018, it hired outsider and seasoned retail executive Marvin Ellison to be its CEO. He quickly dove into the guts of the operations and performed a top-to-bottom assessment of the organization.
The new CEO concluded that even though Lowe's had a strong brand and a solid balance sheet, its infrastructure had failed to keep up, and the company lacked modern tools to run its operations. Ellison and his management team are now executing on a transformation plan that focuses on the fundamentals of running a retail operation, and it's paying off.
In its most recent quarter, the company beat bottom-line expectations due to improved execution. But Ellison indicated it still has a number of opportunities, including shoring up its Canadian store base, further improvements to its Pro business, and stabilizing its e-commerce infrastructure.
Lowe's' record of increased dividend payouts is now going on 57 consecutive years, making it a Dividend King and further proving its ability to adapt in all economic environments. With millions of aging homes around the U.S., a brand that people trust, a solid dividend yield of 1.7%, and a reasonable payout ratio of 54%, this is one stock you could keep in your portfolio forever.
3. McCormick: Consolidating information technology systems
You are probably familiar with McCormick from its consumer segment (which fills the spice aisle of your local grocery store), but you might not know it also has a robust flavor solutions segment that sells spices and condiments to manufacturers and restaurants.
This business-to-business segment makes up 39% of the company's $5.3 billion in sales, and is the faster-growing of the two segments, with revenue growth last year of 1.1%.
A key part of McCormick's growth strategy is acquiring brands that help bolster its position as the leading flavor company. Since the beginning of 2015, it has acquired seven companies, including the $4.2 billion purchase of RB Foods in 2017 from Reckitt Benckiser Group. These acquisitions have added well-known brands such as French's, Frank's RedHot, and Stubb's to the fold, but have also added complexity.
In mergers, it's often difficult to realize savings in core support functions with different information technology (IT) systems from the companies being acquired. Because of this, McCormick has embarked on a multi-year effort to replace its enterprise resource planning (ERP) software that runs its factories, supply chain, and finances. The project will cost $300 million to $350 million and put a damper on earnings through 2021, wrapping up in 2022. The result will be a single global system, providing a solid foundation for it to grow and enable additional efficiencies for its back-office processes.
The company has been increasing its dividend for 33 years and currently has a nice dividend yield of 1.4% and a comfortable payout ratio of 44%.
With its leading position in the flavor business, you could rest easy with this stock in your portfolio for many decades.
10 stocks we like better than Lowe's
When investing geniuses David and Tom Gardner have a stock tip, it can pay to listen. After all, the newsletter they have run for over a decade, Motley Fool Stock Advisor, has tripled the market.*
David and Tom just revealed what they believe are the ten best stocks for investors to buy right now... and Lowe's wasn't one of them! That's right -- they think these 10 stocks are even better buys.
*Stock Advisor returns as of December 1, 2019
Brian Withers has no position in any of the stocks mentioned. The Motley Fool recommends Cintas, Lowe's, and McCormick. The Motley Fool has a disclosure policy.
Source