Why General Motors Stock Is Higher Today
What happened
Shares of General Motors (NYSE: GM) were trading higher on Tuesday. In a presentation at the Consumer Electronics Show (CES), GM revealed a new electric commercial-vehicle brand and gave an update on its plan to transition entirely to electric vehicles.
As of noon EST, GM's shares were up about 5.4% from Monday's closing price.
So what
The centerpiece of GM's Tuesday presentation at CES was BrightDrop, a new electric commercial-vehicle brand that builds on GM's recent investments in electric vehicles, telematics, and software.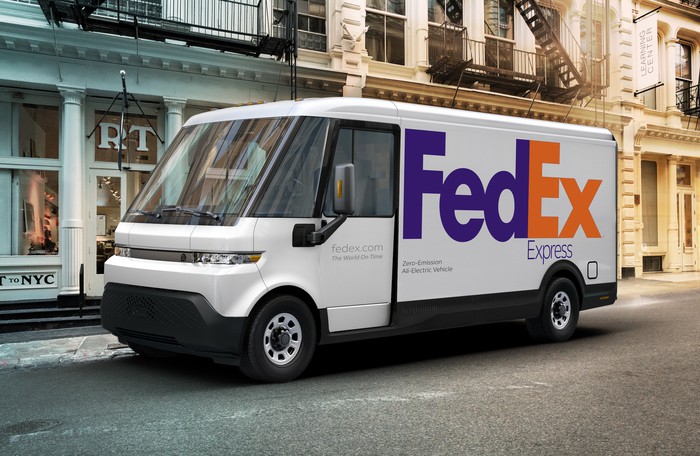 GM will begin shipping the electric BrightDrop EV600 to its first customer, FedEx, by the end of 2021. Image source: General Motors.
GM worked with several key customers -- notably FedEx (NYSE: FDX) -- to develop BrightDrop's product line:
A new electric delivery van (BrightDrop EV600) built on GM's Ultium EV architecture, with about 250 miles of range, around 600 cubic feet of cargo capacity, and fast-recharging capability;

A small electric cargo-mover for use by warehouse workers and delivery-van drivers (BrightDrop EP1); and

A cloud-based software platform that allows fleet managers to track vehicles (including the EP1), monitor service needs, and perform over-the-air updates.
GM and FedEx have already completed a pilot program with the EP1, and have another scheduled for later this year. As for the EV600 van, GM expects to deliver the first vans to FedEx by the end of this year and to make it available to other customers in early 2022. More BrightDrop products are likely to follow.
Now what
Here's why this is bullish for GM: It's (another) sign that the company is fully prepared to defend its existing market share as the world transitions to electric vehicles.
Like Ford Motor Company (NYSE: F), which is readying battery-electric versions of its F-150 pickup and Transit commercial van for launch next year, GM makes a lot of money in the commercial-vehicle market and would like that to continue.
It's also an important reminder to auto investors excited about EV start-ups: The big automakers have significant structural advantages that won't go away as they transition to electric vehicles. Invest carefully.
10 stocks we like better than General Motors
When investing geniuses David and Tom Gardner have a stock tip, it can pay to listen. After all, the newsletter they have run for over a decade, Motley Fool Stock Advisor, has tripled the market.*
David and Tom just revealed what they believe are the ten best stocks for investors to buy right now... and General Motors wasn't one of them! That's right -- they think these 10 stocks are even better buys.
*Stock Advisor returns as of November 20, 2020
John Rosevear owns shares of Ford and General Motors. The Motley Fool owns shares of and recommends FedEx. The Motley Fool has a disclosure policy.
Source