1 Recession-Proof Stock to Buy Now
It's a tricky time to be an investor: The market sell-off is creating some enticing bargains, but the prospect of a possible recession is scaring some investors away from investing in stocks. A measured approach that may offer some peace of mind is investing in resilient businesses that remain in high demand even during times of economic distress.
One such business that deserves investors' attention is Crowdstrike Holdings (NASDAQ: CRWD), a cybersecurity company. Let's look at why investing in Crowdstrike now can help investors weather slowing economic conditions and yield stellar returns in the long run.
Cybersecurity is table stakes and a top priority
Cyberattacks -- or hacking websites and technology systems of companies -- unfortunately have become a regular event. The growing digitization of the world is making life more convenient, but it is also giving bad actors a larger surface area to break into organizational boundaries and steal and sell sensitive information such as consumer data, intellectual property, and state secrets, causing catastrophic damage.
Some estimates say that in 2022, about 30,000 websites have been hacked daily across the globe, and per Accenture, average cyberattacks per company have gone up by 31% from 2020 to 2021. Cybersecurity Ventures projects that global costs due to cybercrimes could surge from $6 trillion in 2021 to a mind-boggling $10.5 trillion by 2025.
Beyond the direct financial damage, enterprises facing security and data breaches also face major operational disruptions, loss of trust from customers and investors, increases in insurance premiums, and increased borrowing costs. Cybersecurity breaches can be devastating to the existence of a business.
It's no surprise that cybersecurity has become a top priority for executives. According to Accenture, IT security budgets jumped to 15% of total IT budgets in 2021 -- representing a growth of five percentage points over 2020.
Crowdstrike, which went public in 2021, pioneered the security cloud category with the mission of protecting its customers from security breaches and has become a top choice for many businesses. The company's cloud-based Falcon platform offers multiple modules focused on various aspects of cybersecurity and can be easily adopted by businesses of all sizes.
In an increasingly hostile cybersecurity environment -- rife with sophisticated hackers and influenced by geopolitical issues -- and even during times of recession, companies are likely to compromise on many other expenses before they consider touching cybersecurity budgets and the services offered by Crowdstrike.
Crowdstrike is becoming a go-to choice for businesses
Falcon collects trillions of cybersecurity events such as possible malicious activities or intrusion attempts from each of its customers, analyzes the data using its AI engine, creates strategies to defend against those attacks, and deploys those strategies across the entire customer base to prevent those attacks. So a security threat at one customer alerts and prepares all other customers to defend against it. Furthermore, the more data fed to Falcon, the more intelligent it becomes, making Crowdstrike's entire customer base more secure and creating a powerful network effect.
With its growing popularity, Crowdstrike has increased its customer base over 10 times -- from 1,242 to 17,945 -- in a little over four years, from fiscal 2018 (ending on Jan. 31, 2018) through the recently reported first quarter of fiscal 2023 (ending on April 30, 2022). Customers are also spending more each year on Crowdstrike, and the company's net retention rate -- the measure of how much existing clients spent over the previous year -- has been consistently over 120% over the past three fiscal years.
With cybersecurity top of mind for Crowdstrike customers, the company's revenue has tripled from $481.4 million in fiscal 2020 to $1.45 billion at the end of fiscal 2022. Revenue grew by another 64% year over year in the recently reported quarter to $488 million. The company is operating efficiently and generated a free cash flow margin of 32% for the first quarter of fiscal 2023.
Crowdstrike's strong growth -- in an environment where businesses are already likely tightening their purse strings -- demonstrates how essential its services are.
Investors can safeguard the portfolio with this potential multibagger
Despite its strong business fundamentals and consistent execution, Crowdstrike can be a volatile stock in the short term as the market continues to be apprehensive of tech stocks in general. Along with the broader market pullback, shares are trading at a relatively lower price-to-sales multiple of about 26 -- about 40% lower than their all-time high about six months ago.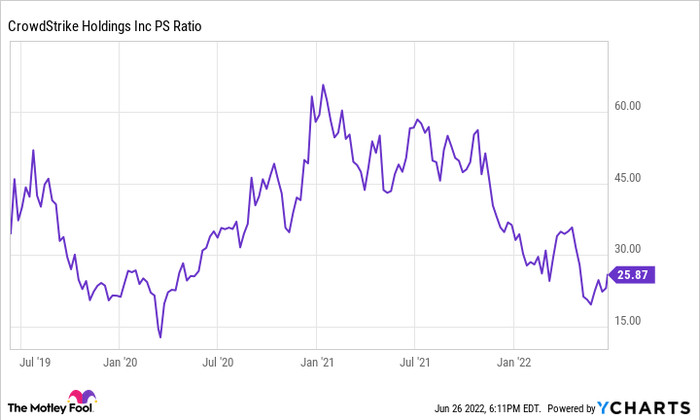 Data by YCharts.
Although shares of Crowdstrike may not seem exactly cheap, their higher price is due to all the good reasons discussed. The company's innovative, continuously learning platform is becoming a top choice for customers. Its disciplined execution is producing outstanding growth and positive free cash flow. And as it continues to expand its product suite, Crowdstrike estimates its market opportunity to grow from $58 billion in 2022 to $126 billion in 2025. With fiscal 2022 revenue just at $1.45 billion, Crowdstrike has a long runway ahead of it.
Changing economic conditions or times of recession don't stop hackers and bad actors from their attempts to break into enterprises and cause harm. In a world where reliable, safe online operations are table stakes, Crowdstrike plays a critical, essential role for businesses. For investors looking to minimize the downside of their investments and potentially score a multibagger in the long run, Crowdstrike can be a great stock to add to your portfolio.
10 stocks we like better than CrowdStrike Holdings, Inc.
When our award-winning analyst team has a stock tip, it can pay to listen. After all, the newsletter they have run for over a decade, Motley Fool Stock Advisor, has tripled the market.*
They just revealed what they believe are the ten best stocks for investors to buy right now... and CrowdStrike Holdings, Inc. wasn't one of them! That's right -- they think these 10 stocks are even better buys.
*Stock Advisor returns as of June 2, 2022
Kaustubh Deshmukh (KD) has positions in Accenture and CrowdStrike Holdings, Inc. The Motley Fool has positions in and recommends Accenture and CrowdStrike Holdings, Inc. The Motley Fool has a disclosure policy.
Source