Once Upon a Time, T-Mobile Nearly Merged With DISH
The multistate lawsuit seeking to block T-Mobile (NASDAQ: TMUS) from merging with Sprint (NYSE: S) is currently underway. The case is the final hurdle that the two companies need to clear in order to close the $26 billion merger that will reshape the domestic wireless industry if allowed to move forward. DISH Network (NASDAQ: DISH) is playing a critical role in the deal, agreeing to purchase spectrum and prepaid segments as part of a package of concessions that T-Mobile and Sprint have agreed to in order to appease antitrust regulators.
It turns out that T-Mobile and DISH nearly combined years ago.
A trip down memory lane
Testifying at the trial, T-Mobile CEO John Legere disclosed that the two companies were close to inking a merger deal back in 2015, according to CNET. That was four years after AT&T failed in its efforts to acquire T-Mobile in 2011 for $39 billion, which entailed paying T-Mobile a $3 billion breakup fee and valuable spectrum licenses after the deal fell through. The CEO also acknowledged how important AT&T's consolation prize was in enabling T-Mobile's turnaround, according to the report.
Legere would take over as T-Mobile CEO in 2012 and proceed to architect the company's "Un-carrier" turnaround strategy. Just two weeks after naming Legere as chief executive, T-Mobile announced it would acquire MetroPCS -- using half the cash it had just received from AT&T to fund the cash component of that deal.
Back then, T-Mobile was in dire shape: It was bleeding subscribers, had an inferior spectrum portfolio, and trailed its three larger competitors by a considerable margin. Legere has long criticized DISH for hoarding spectrum and not using it, testifying that he thought that by combining with DISH in 2015 that T-Mobile could leverage those airwaves. Such a merger could have also given T-Mobile an opportunity to disrupt the satellite TV industry.
Legere and DISH co-founder Charlie Ergen weren't able to settle on a price, so the negotiations fell apart. Ergen reportedly believed T-Mobile's business would continue deteriorating and was pushing for more favorable terms. T-Mobile shares were trading around $25 at the time, and the stock has tripled in the years since.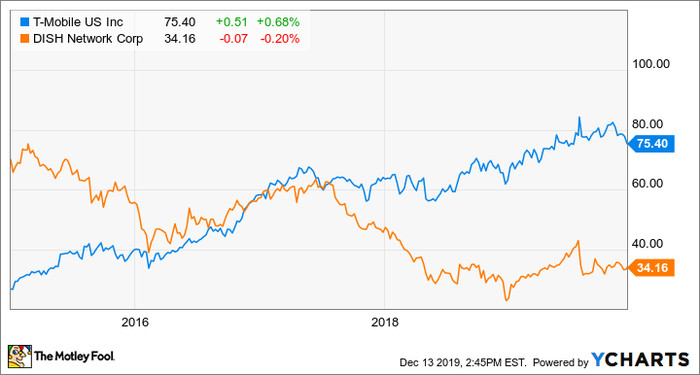 Confidence in DISH
Legere has a combative reputation and has never been afraid of taking jabs at rivals, including this tweet from earlier this year.
Next on "Hoarders":

https://twitter.com/dish?ref_src=twsrc%5Etfw

. They've warehoused $11B of spectrum for years and missed every build deadline. NOW they finally started to deploy with one tower so the spectrum doesn't get taken away 🤣

https://twitter.com/hashtag/UseItOrLoseIt?src=hash&ref_src=twsrc%5Etfw

! https://t.co/2N4dNKAdSn pic.twitter.com/IcNQBciKwF

— John Legere (@JohnLegere)

https://twitter.com/JohnLegere/status/1092952001279741952?ref_src=twsrc%5Etfw
With the Sprint merger now hinging in part on DISH becoming a fourth carrier to preserve competition, T-Mobile has changed its tune. At a Goldman Sachs tech conference in September, COO and incoming CEO Mike Sievert expressed confidence in DISH.
"Look, DISH is going to come in," Sievert said. "They're going to be a viable competitor."
10 stocks we like better than T-Mobile US
When investing geniuses David and Tom Gardner have a stock tip, it can pay to listen. After all, the newsletter they have run for over a decade, Motley Fool Stock Advisor, has tripled the market.*
David and Tom just revealed what they believe are the ten best stocks for investors to buy right now... and T-Mobile US wasn't one of them! That's right -- they think these 10 stocks are even better buys.
*Stock Advisor returns as of December 1, 2019
Evan Niu, CFA has no position in any of the stocks mentioned. The Motley Fool recommends T-Mobile US. The Motley Fool has a disclosure policy.
Source