Are Gaming Stocks Safe Bets in the Coronavirus Sell-Off?
While markets are reeling from the rapid spread of COVID-19 and resulting economic disruption, investors are looking for save havens in which to park their funds. The broader markets are expected to be volatile in the near term until countries around the world come to grips with the pandemic.
The time is ripe to consider individual stocks that appear coronavirus-proof and that can beat the market in 2020 and beyond. Stocks such as Amazon and Walmart have managed to hold their own in this sell-off because consumer demand remains high for essential products. And people all around the world are staying home from school or working from home, which has helped companies such as Netflix and Zoom Video to outperform indexes.
Another sector that is attractive right now is the gaming space. Shares of gaming companies such as Activision Blizzard (NASDAQ: ATVI), Electronic Arts (NASDAQ: EA), and Take-Two Interactive (NASDAQ: TTWO) have handily outperformed the S&P 500 over the past month.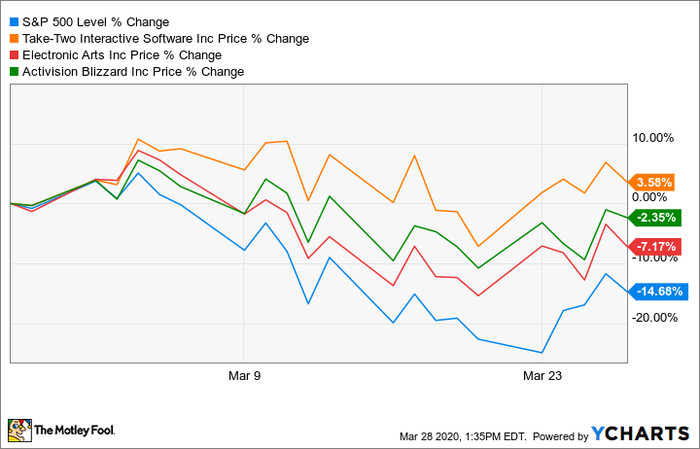 Video Game Stocks vs. the S&P 500, data by YCharts.
While there has been no major news surrounding the gaming companies in recent weeks, investors feel that demand for games will move higher as global lockdown and self-quarantine efforts continue.
Activision Blizzard stock is down 11.5% from 52-week highs
Shares of gaming giant Activision Blizzard are down 11.5% since Feb. 19 (the day markets peaked), compared to the S&P 500's decline of 25%. Gaming companies including Activision are likely to experience higher engagement levels as people gain significant amounts of free time. As of mid-March, data usage related to gaming had surged 75% during peak hours due to self-quarantine measures implemented in several states, according to data from Verizon.
Activision's Call of Duty: Warzone was released as a free-to-play game on March 10 and surpassed 15 million downloads within three days. This popular battle royale game can be a key driver of user engagement for Activision Blizzard in the upcoming quarters.
The company also announced that its Call of Duty esports league will continue to run online. While this league will be negatively impacted by lost ticket sales and sponsorship money, it will likely get a considerable boost in online streaming viewership.
Two other gaming giants to consider in this bear market
Shares of Electronic Arts are down 13% since Feb. 19. The company is expected to benefit from strong sales in its live services business, which saw revenue growth of 27% last quarter. The live services segment generates revenue from in-game purchases and subscriptions.
The lockdown situation may also boost EA's mobile revenue, a segment that has underperformed in recent quarters. In the quarter ended in December, EA's mobile sales were down 6%, and it fell 17% in the last 12 months.
For comparison, global mobile gaming sales grew by about 10% in 2019, according to research company Newzoo. Electronic Arts outlined its strategy to increase mobile gaming revenue during the company's earnings call in late January. EA will look to improve content monetization, focus on acquisitions in this segment, and, most importantly, create better games.
Another winning bet for 2020 could be Take-Two Interactive, shares of which have slipped less than 2% since Feb. 19. Take-Two is the publisher of monstrously successful gaming franchises such as Red Dead Redemption and Grand Theft Auto.
Earlier this month, Take-Two announced a multiyear partnership with the National Football League (NFL) to create a "series of non-simulation gaming experiences." The first game is expected to launch later this year.
Take-Two's last Grand Theft Auto game was released back in 2013 and continues to generate revenue. GTA V has sold more than 120 million units to date, bringing in billions of dollars in sales. Take-Two Interactive has added new features to GTA's downloadable content every year since its release, and this has helped sustain engagement levels.
The verdict
Many stock-market stalwarts could struggle until the COVID-19 pandemic recedes. For example, Walt Disney is impacted by the shutdown of theme parks, Apple may struggle with lower iPhone shipments, and Alphabet's Google will experience a decline in ad revenue. By contrast, Activision Blizzard and its peers are well positioned to ride out the current downturn.
10 stocks we like better than Activision Blizzard
When investing geniuses David and Tom Gardner have a stock tip, it can pay to listen. After all, the newsletter they have run for over a decade, Motley Fool Stock Advisor, has tripled the market.*
David and Tom just revealed what they believe are the ten best stocks for investors to buy right now... and Walt Disney wasn't one of them! That's right -- they think these 10 stocks are even better buys.
*Stock Advisor returns as of March 18, 2020
John Mackey, CEO of Whole Foods Market, an Amazon subsidiary, is a member of The Motley Fool's board of directors. Suzanne Frey, an executive at Alphabet, is a member of The Motley Fool's board of directors. Aditya Raghunath has no position in any of the stocks mentioned. The Motley Fool owns shares of and recommends Activision Blizzard, Alphabet (A shares), Alphabet (C shares), Amazon, Apple, Netflix, Take-Two Interactive, Walt Disney, and Zoom Video Communications. The Motley Fool recommends Electronic Arts and Verizon Communications and recommends the following options: long January 2021 $60 calls on Walt Disney, short April 2020 $135 calls on Walt Disney, and short May 2020 $120 calls on Zoom Video Communications. The Motley Fool has a disclosure policy.
Source