Why Cruise Line Stocks Jumped on Monday
What happened
Shares of cruise line stocks had a great start to the week, with the industry climbing by the high single digits in trading on Monday. Shares of Carnival (NYSE: CCL) (NYSE: CUK) were up as much as 7.7%, Royal Caribbean (NYSE: RCL) was up 5%, and Norwegian Cruise Line Holdings (NYSE: NCLH) rose 4.8% at its peak. At the close of trading, the stocks were up 3.9%, 1.9%, and 0.8%, respectively.
The jump in shares was impressive given that the market overall was flat and the biggest mover was oil (an expense for cruise lines), rising 1.9%. But cruise line shares were still up, and there are a few reasons.
So what
Shares of cruise line stocks have traded in reverse correlation with COVID-19 numbers in the U.S. since early this summer, and that's part of the trend early this week. COVID cases diagnosed in the U.S. began rising in early summer, which pushed shares lower, and then peaked earlier in September, just before shares started moving higher. It appears that right now, the case numbers continue to go down.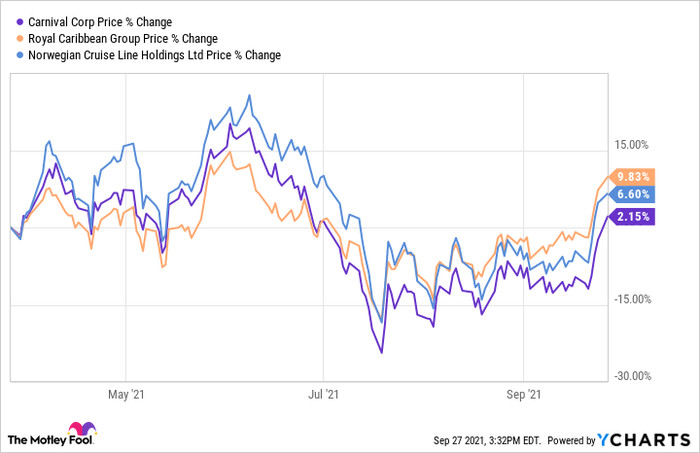 CCL data by YCharts.
There were also a couple of news items out last week that have provided momentum for cruise line stocks. One was Carnival's third-quarter business update, which showed a loss of $2.8 billion for the quarter, but gave some positive signs for the future. Management said that booming volumes for the second half of 2022 are ahead of bookings at this time in 2019, potentially a positive sign about future demand.
In another sign that restrictions are easing, the U.S. will relax travel limits on airline passengers from the U.K. and European Union countries in early November. Fully vaccinated passengers will be able to travel freely as long as they have a negative COVID test within 72 hours of departure, and no quarantine will be necessary. This policy doesn't necessarily directly impact cruise lines, but easing restrictions are certainly seen as a positive for the industry.
Now what
While there are some positive signs in relation to COVID in the U.S. and some reasonably good data from the cruise line industry, there's still a tough situation ahead. As part of its release last week, Carnival said that it burned $510 million per month in the third quarter of 2021, showing just how costly it is to run a cruise line that's still not at full capacity.
The future of the cruise business really comes down to when customers will be comfortable traveling in even larger numbers. Carnival said that it was only operating at about 35% of its capacity at the end of August, so there's a lot of room for improvement. But management also expects to be at just 75% of capacity by June 2022, showing there's a long recovery ahead.
Given the sheer cost of owning and operating cruise ships, this is an industry I will stay away from. Cruise stocks might have recovered nicely from the depth of the recession, but the business is still in shambles and will be for the foreseeable future. Today's pop is nice based on positive comments from the industry, but the reality is that fundamentals are still very weak, and until that changes I'll stay out of cruise line stocks.
10 stocks we like better than Carnival
When our award-winning analyst team has a stock tip, it can pay to listen. After all, the newsletter they have run for over a decade, Motley Fool Stock Advisor, has tripled the market.*
They just revealed what they believe are the ten best stocks for investors to buy right now... and Carnival wasn't one of them! That's right -- they think these 10 stocks are even better buys.
*Stock Advisor returns as of September 17, 2021
Travis Hoium has no position in any of the stocks mentioned. The Motley Fool recommends Carnival. The Motley Fool has a disclosure policy.
Source