3 of the Highest Growth Stocks in the Market Today
Revenue growth can often correlate with stock performance over a long period of time, so growth stocks can be a great place to find high-performing stocks. And there have been some impressive growth stocks over the last five years.
The highest-growth stocks on the market that investors may not have seen coming are Shopify (NYSE: SHOP), Carvana (NYSE: CVNA), and Okta (NASDAQ: OKTA), which have all transformed the businesses they operate in.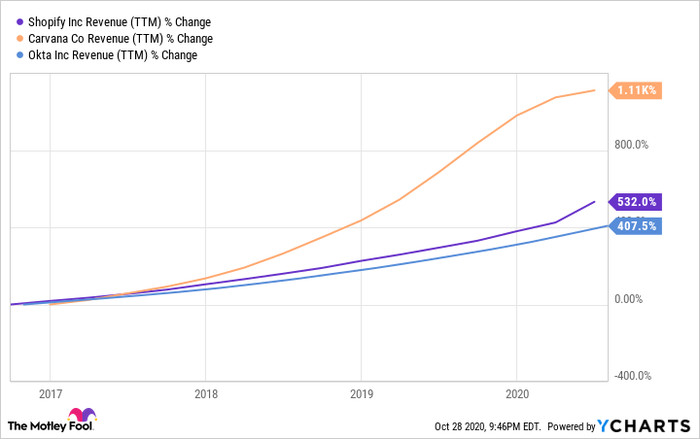 SHOP Revenue (TTM) data by YCharts
Filling a need in e-commerce
E-commerce has been growing, but it's been dominated by big retailers like Amazon (NASDAQ: AMZN). It was hard for small product producers and retailers to gain a foothold against such a behemoth, even if they had compelling products.
To reduce the technical expertise needed to run an online store, Shopify built tools that make creating a website, taking orders, and shipping easy for shop operators. The result was a flood of businesses adopting its platform, and now online stores big and small are choosing Shopify.
Shopify's annual revenue was up a whopping 670% from 2015 to 2019 and is increasing this year and showing no signs of slowing down. Simple checkout tools like Apple Pay and Shop Pay are making it easier to buy at small online shops, and tools like Instagram and direct marketing are making it easier to attract and retain customers. As more customers shop direct, Shopify is a platform that will continue to grow.
Car buying and selling made easy
Buying and selling a car has always been a difficult process, and Carvana is trying to make it easier. The company has a platform for quickly selling or buying a vehicle without the hassle of a dealership. And as the platform grows, it makes it a more attractive place to shop and delivers more economies of scale for Carvana.
It's worth noting that revenue growth has not corresponded with earnings growth, but there's a good reason for that. Carvana is investing in advertising and sales to grow the platform. As it scales, these costs will come down as a percentage of sales.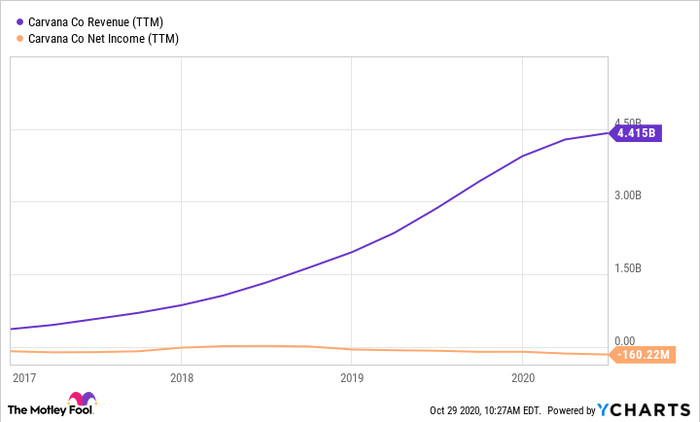 CVNA Revenue (TTM) data by YCharts
If the company can build scale and become the go-to online sales platform for used cars, it could control a lucrative business on a national scale, something no dealership has been able to do.
Security simplified
The brilliance of Okta, and the reason for its growth, has been the simplicity of using the Okta platform. The company's security product easily integrates with some of the most commonly used pieces of software for individuals and businesses. It allows companies to grant access to software securely, and for individuals, it allows a personalized security experience.
Like Shopify and Carvana, growth and scale are critical to the company's success. Once it is the security solution for a company, the switching costs are high enough that clients will likely stay for years and Okta continues to add services and software partners, further tying itself to users.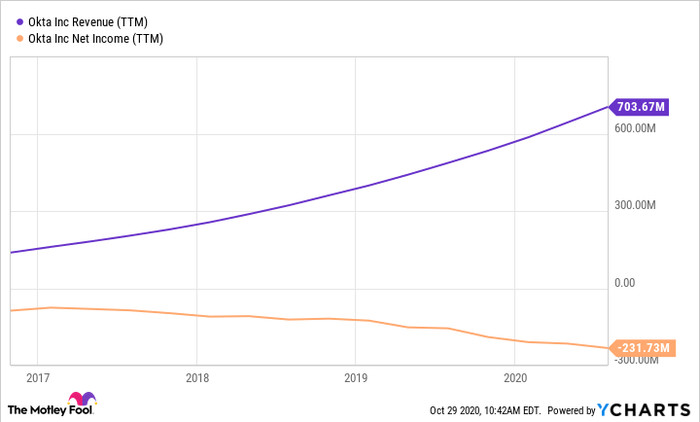 OKTA Revenue (TTM) data by YCharts
Like all three companies I've discussed here, Okta is losing money because it's spending to grow the customer base. But the sticky nature of its services should make this a profitable company in the long term. Revenue growth comes first, and even for some of the most profitable companies in the world, the bottom line takes years to catch up.
Growth wins in the long term
Investors who can find and hold onto high-growth stocks for a long period of time have a good chance of beating the market. The outstanding returns these three stocks have had in 2020 may not continue at quite as fast a rate, but they're set up to be long-term winners and grow their presence.
10 stocks we like better than Shopify
When investing geniuses David and Tom Gardner have a stock tip, it can pay to listen. After all, the newsletter they have run for over a decade, Motley Fool Stock Advisor, has tripled the market.*
David and Tom just revealed what they believe are the ten best stocks for investors to buy right now... and Shopify wasn't one of them! That's right -- they think these 10 stocks are even better buys.
*Stock Advisor returns as of October 20, 2020
John Mackey, CEO of Whole Foods Market, an Amazon subsidiary, is a member of The Motley Fool's board of directors. Randi Zuckerberg, a former director of market development and spokeswoman for Facebook and sister to its CEO, Mark Zuckerberg, is a member of The Motley Fool's board of directors. Travis Hoium owns shares of Apple. The Motley Fool owns shares of and recommends Amazon, Apple, Facebook, Okta, and Shopify and recommends the following options: short January 2022 $1940 calls on Amazon and long January 2022 $1920 calls on Amazon. The Motley Fool has a disclosure policy.
Source